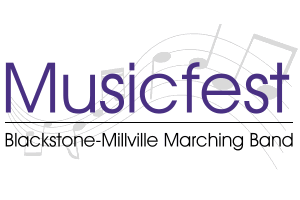 The Blackstone-Millville Music Association is pleased to announce that MusicFest will be held on September 23rd, 2023 at Bellingham High School in Bellingham, Massachusetts.
Our home shows is our second biggest fundraiser of the year and is a great competition that includes 5 bands including the BMR Marching band.
Come join us to support the music program. Food, drinks, raffles and more!
Volunteers Needed!
It take a village to put on this large of a show. Many volunteers are needed in a multitude of areas starting around midday and ending mid-evening. We need people in many areas from "Bleacher Bouncers" to Admission and Concessions to Chaperones and many, many more. All help is greatly appreciated!!
If you can help in any way, please signup here:
https://www.signupgenius.com/go/508084EACAF2EAAF49-bmma
Materials Request
We are also in need of pop-up tents and folding tables. If you have one that you can volunteer for the day, please signup here:
https://www.signupgenius.com/go/508084eacaf2eaaf49-tables
Again, please put your name on all items that you let us borrow, and we will make sure to get your things back to you.