It's hard to believe that we're already in December! Marching band season ended just a few weeks ago and over the next few weeks Winter Percussion, Jazz band, and Holiday concerts will happen. Music is an integral part of the schools and community. The BMMA has been looking for ways to raise funds to help support the music program in our schools.
We are very excited to launch our first in a series of local restaurant fundraisers. We will be doing a monthly day in partnership with and in support of some of our local restaurants. Our first restaurant fundraiser will be at Uno's in Bellingham, MA on December 13th. Please print out and bring the flyer below. Good for dine-in OR take out.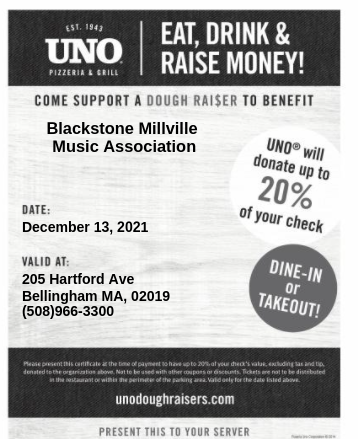 We hope to have one special partner each month that will share a percentage of their proceeds with the BMMA when you and your families dine in or take out.
We look forward to seeing you at Uno's on the 13th. Thank you!